Convert your old videos, slides and music to modern-day digital USB to ensure your family's memories are available for generations to come.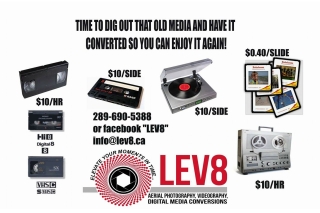 Technology changes, unfortunately we have our memories on old-tech and can no longer view it. This is where Lev8 Digital Media Services can help. We can convert your VHS  videos, cassette tapes, vinyl albums, and slides to a digital USB for you and your family to enjoy for generations to come. 
We have converted countless hours for our clients and love watching their faces, or hearing about their experience in viewing footage from years gone by, they thought they would never see again. 
Our clients also include advertising and media agencies converting their portfolio in a manner useable in today's on-line formats, djs converting their collections, and those looking to have access to their collection of VHS movies now that they no longer have a VCR. 
Don't lose your family history, convert it today.